The Boogeyman
Thank you for rating this movie!
Read your review below. Ratings will be added after 24 hours.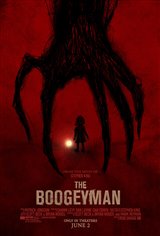 3.62 / 5
Based on 26 votes and 10 reviews
Please rate between 1 to 5 stars
Showing 1 to 10 of 10
July 05, 2023
I liked the fact that it actually has some very scary parts that are unexpected and made me jump!!!
June 29, 2023
BAD acting, unlikable characters, predictable plot, filmed almost completely in the dark, can't see anything, no build up in story
June 13, 2023
This premise is just so 'been thru the Mill', just so DONE, that I was SURE there had to be Some kind of Twist to keep it interesting. I was wrong. Not too much actual SCARINESS to be Had....it was more like, 'Now- THIS is gonna happen' type of deal. The acting wasn't BAD, considering what they were Working with. Just a big Yawn, for me. And I LOVE a Good Scare. Look elsewhere. Disappointing.
June 11, 2023
A real nail biter
June 09, 2023
Ssssloooooooww.
June 09, 2023
We are in our mid-sixties ... and long over the "slash up the sorority" movies. This movie isn't one of those ... it's more the suspenseful thriller and it WILL make you spill your popcorn! LOL
June 06, 2023
Lots of thrills.
June 02, 2023
This was a good scare movie. No blood and guts but no need to. Had me glued to the movie not wanting to miss any of it. I enjoyed the movie and I'm hard to please as far as horror movies are concerned.
June 02, 2023
Great suspense
June 02, 2023
Better than Annabelle and that kind of crap.