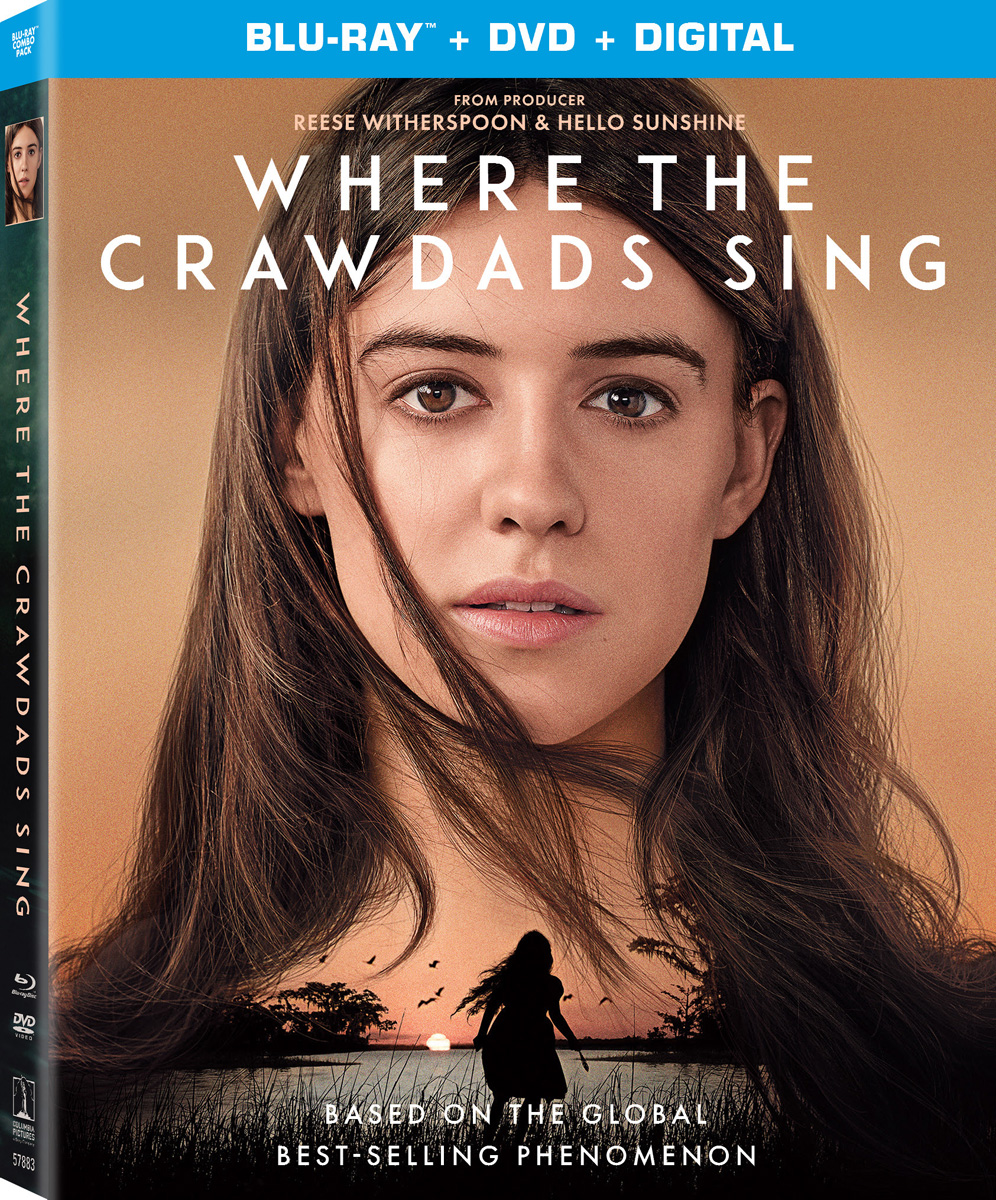 Where the Crawdads Sing is the story of a young girl named Kya. She enjoys her life with her mother and her elder brothers and sisters, but when her mostly absentee father is at home, he turns their lives into misery. After one beating too many, Kya's mother packs a suitcase and leaves. One by one, her siblings all eventually follow, striking out on their own to find their way in the world -- even Jodie, her brother who's closest in age to Kya.

Left alone with her father, the little girl learns how to make herself scarce when he's been drinking and how to appease him at other times. Until one day, he doesn't return home either.

Now completely alone, Kya has to figure out some way to obtain food and navigate her way around the marsh in her father's motorboat.

The movie stays very true to the best-selling novel by Delia Owens. It's not just a coming-of-age story, but it's also a murder mystery, with a hint of romance. The locations chosen for the film look exactly as I'd envisioned them while reading the book. Picture a little girl out in a beautiful marsh filled with wildlife, who constantly watches for possible danger (from humans), but who also craves human interaction.

Kya goes to a small store on the water's edge where she's able to sell mussels to the proprietor, a Black man named Jumpin' (Sterling Macer Jr.), whose wife Mabel (Michael Hyatt) quickly realizes Kya's predicament and puts together a package of donated clothing and shoes for the little girl. The couple become Kya's guardian angels -- making sure she has enough to survive.

She also makes friends with Tate, her brother Jodie's friend. He shares her love of the marsh and the plants and wildlife found within. When he discovers she's never been to school, he teaches her to read and write.

Even though some things have been condensed to fit into the two hour movie format, the movie is as faithful an adaptation as you could hope for. It begins with a young man found dead -- whether he's had an accident or he's been murdered isn't clear to the police -- but they decide the evidence points to murder, and to Kya as the culprit.

As the film switches to Kya's childhood and then back to the present several times, viewers are drawn into the details and the charm of Kya's childhood -- at times idyllic -- and at times, incredibly lonely and frightening.

Daisy Edgar-Jones is perfect in every way in the role of Kya. From watching the bonus features I realized she's British -- but I had no idea before that because she absolutely nails the North Carolina accent. She also portrays Kya just as she's pictured in the novel -- with strength, but also a touching vulnerability. As the couple who take an interest in Kya's welfare, Sterling Macer Jr. and Michael Hyatt have the warmth that gives us (and Kya) a reason to slowly realize their goodness and appreciate that they are doing all that they can for the girl.

In her early twenties, when she's charged with murder, Kya, knowing nothing of the process and with no one to provide bail or legal assistance, sits quietly in her cell, awaiting the outcome, whatever it may be. Tom Milton (David Strathairn), a local lawyer who has seen Kya in town the few times she's been picking up supplies, decides he can't ignore the fact that the townspeople have excluded and ridiculed the girl her entire life. He offers his help and eventually earns her acceptance and trust.

Strathairn plays Milton with a quiet, gentle calm that I haven't seen onscreen in a lawyer since Atticus Finch in To Kill a Mockingbird. He's not at all sure he can get a "not guilty" verdict for Kya, because of the townspeople's prejudice towards her, but he gives it all he's got.

The film is two hours of pure entertainment, as we watch not just Kya's plight, but her adventures in the marsh as she grows up and learns what's important to her. ~Alexandra Heilbron

5 out of 5 stars

Bonus Features:

• Adapting a Phenomenon: Explore the journey of bringing the best-selling novel to life as told
by the cast and filmmakers of Where The Crawdads Sing.
• Creating the World: When a book is as beloved as Where The Crawdads Sing, the details of
the world are everything. Hear firsthand from the designers and artists that translated those
images to the screen.
• Women in Focus: From its captivating central character, Kya, crafted by author Delia Owens
to the incredible team of women at the helm of the film adaptation, this piece is a testament to
the strength, determination and resilience of women both onscreen and behind the scenes.
• 14 Deleted & Extended Scenes: See more of the marsh, mystery and magic in this collection
of deleted and extended scenes.
• Lyric Video: "Carolina" by Taylor Swift.

Where the Crawdads Sing is now available on Digital, Blu-ray and DVD. If you have seen it and would like to rate/review it yourself, click here.