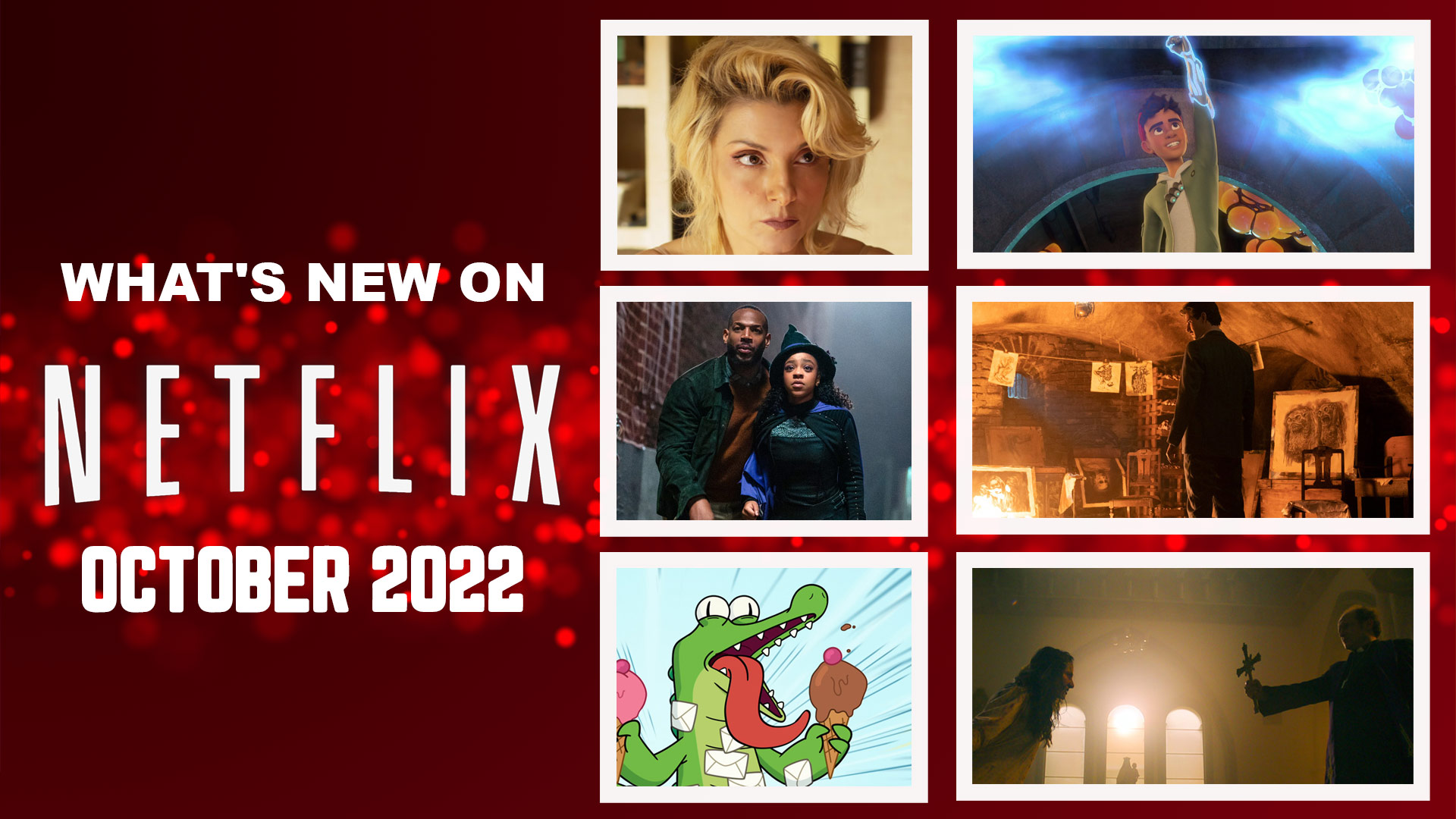 It's October on Netflix and that means we're in for some spooky entertainment! Check out the films include The Curse of Bridge Hollow and Mr. Harrigan's Phone, and the series The Midnight Club and Guillermo del Toro's Cabinet of Curiosities. For those who like to get their scares from true stories, 28 Days Haunted, I Am a Stalker and Vol. 3 of Unsolved Mysteries are sure to give you chills. Scroll down for more of the original new programs coming up this month.  ~Alexandra Heilbron

New and Returning Series

Nailed It!: Season 7 - October 5
The Emmy-nominated series is back with a season full of tricks and treats as we celebrate Halloween. Featuring ghoulish surprises from some favorite Netflix shows — Umbrella Academy, Cobra Kai and The Witcher, the desserts are intentionally scary this time!

Derry Girls: Season 3 - October 7
As Northern Ireland takes a big step into the future, so do our girls — but not without hitting a few messy stumbling blocks along the way.

The Midnight Club - October 7
Inside a hospice for terminally ill teens, members of an exclusive club make a chilling pact: The first to die must send a sign from beyond the grave.

From Scratch - October 21
An American artist (Zoe Saldana) finds romance with a chef in Italy and embarks on a life-changing journey of love, loss, resilience and hope across cultures and continents.

28 Days Haunted - October 21
Three teams each spend 28 days in some of America's most haunted locations for a paranormal experiment based on the theories of Ed and Lorraine Warren.

New Films

Mr. Harrigan's Phone - October 5
A boy (Jaeden Martell) and an aging billionaire (Donald Sutherland) bond over books — and their first iPhones. But when the older man passes, their mysterious connection refuses to die.

Luckiest Girl Alive - October 7
A writer's (Mila Kunis) perfectly crafted New York City life starts to unravel when a true-crime documentary forces her to confront her harrowing high school history.

The Curse of Bridge Hollow - October 14
A father (Marlon Wayans) and his teenage daughter (Priah Ferguson) are forced to team up and save their town after an ancient and mischievous spirit causes Halloween decorations to come to life and wreak havoc.

The Stranger - October 19
An undercover cop forms an intense, intimate relationship with a murder suspect while trying to earn his trust and elicit a confession in this Australian movie. Starring Joel Edgerton.

The School for Good and Evil - October 19
Best friends Sophie (Sophia Anne Caruso) and Agatha (Sofia Wylie) find their bond put to the test when they're whisked away to a magical school for future fairy-tale heroes and villains. Also stars Charlize Theron as Lady Lesso.

The Good Nurse - October 26
Amy Loughren (Jessica Chastain), a compassionate nurse and single mother struggling with a life-threatening heart condition, is stretched to her physical and emotional limits by the hard and demanding night shifts at the ICU. But help arrives when Charlie Cullen (Eddie Redmayne), a thoughtful and empathetic fellow nurse, starts at her unit. While sharing long nights at the hospital, the two develop a strong and devoted friendship. But after a series of mysterious patient deaths sets off an investigation that points to Charlie as the prime suspect, Amy is forced to risk her life to uncover the truth.

Wendell & Wild - October 28
Two scheming demon brothers Wendell (Keegan-Michael Key) and Wild (Jordan Peele) — enlist the aid of Kat Elliot (Lyric Ross) — a tough teen with a load of guilt — to summon them to the Land of the Living. But what Kat demands in return leads to a brilliantly bizarre and comedic adventure like no other.

Documentaries

The Fight for Justice: Paolo Guerrero - October 5
Soccer star Paolo Guerrero wages a challenging legal battle after testing positive for cocaine a few months before the World Cup. Based on a true story.

The Trapped 13: How We Survived The Thai Cave - October 5
In this compelling documentary, members of the Thai youth soccer team tell their stories of getting trapped in Tham Luang Cave in 2018 — and surviving.

Aftershock: Everest and the Nepal Earthquake - October 6 
Survivors' firsthand accounts and actual footage fuel this emotional docuseries about the deadly 2015 earthquake that shook Nepal.

Conversations with a Killer: The Jeffrey Dahmer Tapes - October 7
This three-part documentary series explores the warped mind of serial killer Jeffrey Dahmer through newly-unearthed recorded interviews with his legal team, revealing the ways that race, sexuality, class and policing allowed him to prey upon Milwaukee's marginalized communities.

Island of the Sea Wolves - October 11
Explore wild, wondrous Vancouver Island, where the ocean nurtures all life, from bald eagles who go fishing to sea wolves who swim in frigid waters.

Unsolved Mysteries: Volume 3 - October 18 (New episodes weekly)
The iconic and gripping series returns with a three-week event featuring more unexplained deaths, baffling disappearances, and bizarre paranormal activity.

Descendant - October 21
Descendants of the enslaved Africans on an illegal ship that arrived in Alabama in 1860 seek justice and healing when the craft's remains are discovered.

I Am a Stalker - October 28 
From the producers behind "I Am A Killer," this true-crime docuseries is told from the perspectives of stalkers and survivors.

For Kids

Oddballs - October 7
Bubble-shaped boy James questions anything and everything that annoys him. The result? An awesome life of odd adventure with his two best friends.

Spirit Rangers - October 10 
Native American siblings Kodi, Summer and Eddy have a secret: They're "Spirit Rangers" who help protect the national park they call home!

The Nutty Boy - October 12
Nutty Boy is an out-of-the-box kid with big ideas who loves involving everyone in his adventures — even though they don't usually go as planned!

Dead End: Paranormal Park: Season 2 - October 13
Barney, Norma, Pugsley and friends encounter a slew of strange new creatures, from angels to evil twins to an army of deranged Pauline Phoenix dolls.

Waffles + Mochi's Restaurant - October 17
Food-loving friends Waffles and Mochi get cooking in their very own restaurant, where hungry customers come to feast on flavors from all over the world!

Barbie Epic Road Trip - October 25
In this interactive adventure, Barbie goes on a cross-country trek with friends and makes big decisions about the future. Which dream will she choose?

Daniel Spellbound - October 27 
A teen tracker follows in his late father's footsteps to uncover a conspiracy in the magical world in this exciting supernatural adventure series.

October 1
Barbie: It Takes Two: Season 2
Buddy Games
Home Again
Hostel
Johnny English Reborn
Jurassic Park III
Jurassic World
The Lost World: Jurassic Park
Premium Rush
The Reader
Saw
Saw II
Saw IV
Saw V
Saw: The Final Chapter
Sing
Spell
Split
Spontaneous
Vicky Cristina Barcelona

October 2
The Conjuring
Forever Queens
Seven
The Shawshank Redemption
The Witches (1990)

October 4
Hasan Minhaj: The King's Jester

October 5
Bling Empire: Season 3
High Water
Jumping from High Places
Mr. Harrigan's Phone
Nailed It!: Season 7
The Fight for Justice: Paolo Guerrero
The Trapped 13: How We Survived The Thai Cave
Togo

October 6
Aftershock: Everest and the Nepal Earthquake
Grey's Anatomy: Season 18
The Joys and Sorrows of Young Yuguo

October 7
Conversations with a Killer: The Jeffrey Dahmer Tapes
The Coroner: Season 4
Derry Girls: Season 3
Doll House
Glitch
Kev Adams: The Real Me
Luckiest Girl Alive
Man on Pause
The Midnight Club
The Mole
Oddballs
Old People
The Redeem Team
TIGER & BUNNY 2: Part 2

October 10
Spirit Rangers

October 11
The Cage
DEAW#13 Udom Taephanich Stand Up Comedy Show
Iliza Shlesinger: Hot Forever
Island of the Sea Wolves
Murdoch Mysteries: Season 15

October 12
Belascoarán, PI
Blackout
Easy-Bake Battle
Forsaken
The Nut Job 2: Nutty by Nature
The Nutty Boy
Wild Croc Territory
Zero Dark Thirty

October 13
Dead End: Paranormal Park: Season 2
Exception
The Playlist
The Siege: Season 1
The Sinner: Season 4: Percy
Someone Borrowed
Sue Perkins: Perfectly Legal

October 14
Black Butterflies
The Curse of Bridge Hollow
Everything Calls for Salvation
Holy Family
Mismatched: Season 2
Take 1

October 15
Blippi's Spooky Spell Halloween
Despicable Me
Despicable Me 2
The Girl on the Train
Identity Thief
Knocked Up
Les Misérables (2012)
Minions
The Girl on the Train
Tom and Jerry
Under the Queen's Umbrella

October 16
Blade
Blade II
Scooby-Doo 2: Monsters Unleashed

October 17
Waffles + Mochi's Restaurant

October 18
Gabriel Iglesias: Stadium Fluffy Live From Los Angeles
LiSA Another Great Day
Somebody Feed Phil: Season 6
Unsolved Mysteries: Volume 3
Workin' Moms: Season 6

October  19
The Green Glove Gang
Love Is Blind: Season 3
Notre-Dame
The School for Good and Evil
The Stranger
Toys of Terror

October 20
Yellow Rose

October 21
28 Days Haunted
Barbarians II
Descendant
From Scratch
High: Confessions of an Ibiza Drug Mule
ONI: Thunder God's Tale

October 22
LOL Surprise! Winter Fashion Show

October 23
Franco Escamilla: Eavesdropping

October 24
The Chalk Line

October 25
Barbie Epic Road Trip
Fortune Feimster: Good Fortune
Guillermo del Toro's Cabinet of Curiosities
Unsolved Mysteries: Volume 3

October 26
Fugitive: The Curious Case of Carlos Ghosn
The Good Nurse
Hellhole
Love Is Blind: Season 3
Robbing Mussolini

October 27
Cici
Daniel Spellbound
Dubai Bling
Earthstorm
Family Reunion: Part 5
Romantic Killer

October 28
All Quiet on the Western Front
The Bastard Son & The Devil Himself
Big Mouth: Season 6
Drink Masters
I Am a Stalker
If Only
My Encounter with Evil
Wendell & Wild
Wild is the Wind

October 29
Deadwind: Season 3

Last Call

Leaving October 8
Fargo: Seasons 1-3

Leaving October 22
Hemlock Grove: Seasons 1-3

Leaving October 23
Insidious
Insidious: Chapter 2
Insidious: Chapter 3

Leaving October 31
Downton Abbey