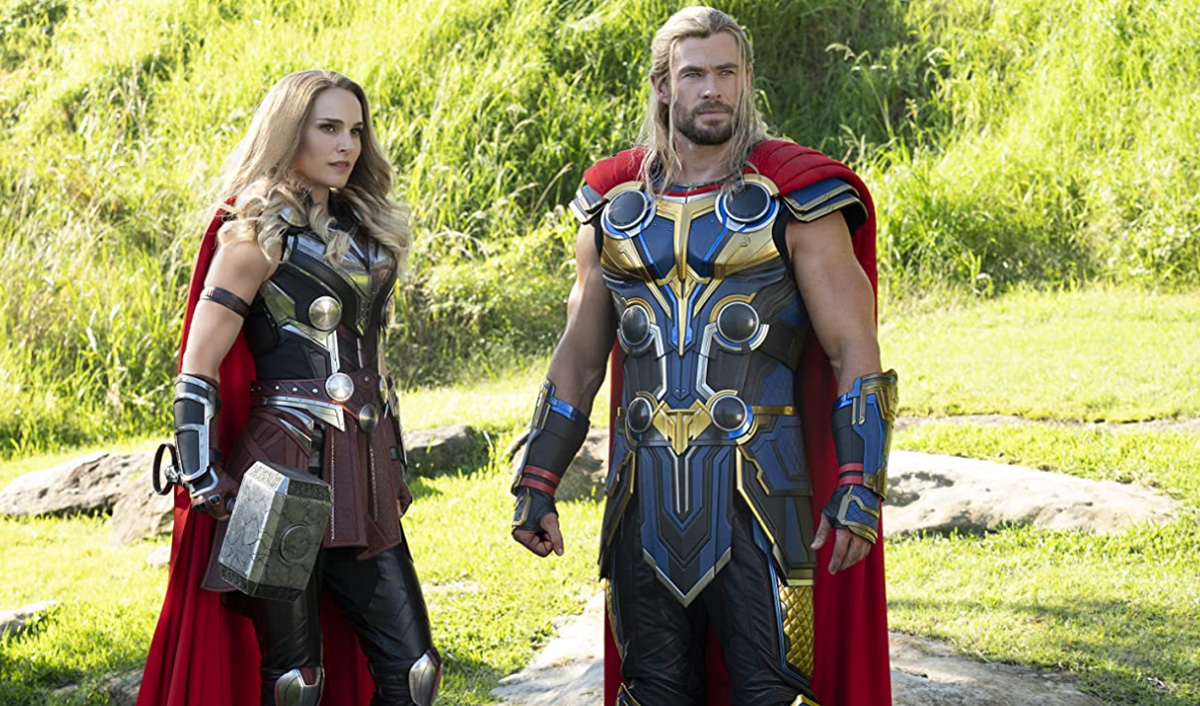 Check out all the new streaming content on Netflix, Prime Video, Disney+, Apple TV+, BritBox, CBC Gem, Paramount+ and more, including the Marilyn Monroe biopic Blonde, as well as new DVD and Blu-ray releases such as Thor: Love and Thunder. See the full list of new titles and watch the trailers below. ~Alexandra Heilbron
Blonde – From director Andrew Dominik, based on the bestselling novel by Joyce Carol Oates, this dramatic interpretation reimagines the complicated life of icon Marilyn Monroe (Ana de Armas). Blurring the lines of fact and fiction, the film explores the tension between her public and private life. Debuts September 28 on Netflix.
Thor: Love and Thunder - Thor (Chris Hemsworth) is on a quest to find himself, but his retirement is interrupted by a galactic killer known as Gorr the God Butcher (Christian Bale), who seeks the extinction of the gods. Thor enlists the help of ex-girlfriend Jane Foster (Natalie Portman), who — to his surprise — inexplicably wields his magical hammer, Mjolnir. Available September 27 on DVD/Blu-ray.
The Munsters - As Herman Munster (Jeff Daniel Phillips) is created in the lab, Lily (Sheri Moon Zombie) yearns to find love. When the two meet, a whirlwind romance ensues despite the dismay of Grandpa Munster (Dan Roebuck), resulting in the pair leaving Transylvania to travel to the American suburbs. Available September 27 on DVD/Blu-ray.
Sound of Metal - During a concert tour, punk-metal drummer Ruben (Riz Ahmed) begins to experience intermittent hearing loss. A doctor advises Ruben that his hearing will continue to get worse if he doesn't quit drumming. Distraught, Ruben continues to play, until he goes completely deaf. His bandmate Lou (Olivia Cooke) checks Ruben into a secluded sober house for the deaf in an effort to help him learn to adapt to his new situation. Available September 27 on DVD/Blu-ray.
September 26
A Trip to Infinity (Netflix)
Best in Dough: Season 1, New Episodes (Disney+)
Dancing with the Stars: Season 31, New Live Episode (Disney+)
Infinite Storm (Prime Video)
My Little Pony: Make Your Mark: Chapter 2 (Netflix)
September 27
Bimibatoo-Win: Where I Ran (CBC Gem)
Bullet Proof (DVD/Blu-ray)
Bullet Train (Digital)
Control (VOD/Digital)
Cujo (1983) (Paramount+)
Fall (Digital)
Friday the 13th (1980) (Paramount+)
Friday the 13th PART II (1981) (Paramount+)
Friday the 13th PART III (1982) (Paramount+)
Friday the 13th PART IV: The Final Chapter (1984) (Paramount+)
Friday the 13th PART V: A New Beginning (1985) (Paramount+)
Friday the 13th PART VI: Jason Lives (1986) (Paramount+)
Friday the 13th PART VII: The New Blood (1988) (Paramount+)
Friday the 13th PART VIII: Jason Takes Manhattan (1989) (Paramount+)
From: Season 1 (Paramount+)
Kung Fu: The Complete Second Season (DVD)
Mayor of Kingstown: Season One (DVD/Blu-ray)
The Munsters (DVD/Blu-ray)
Nix (Digital)
The Patient:Season 1, New Episode (Disney+)
Pet Sematary (1989) (Paramount+)
Reasonable Doubt: Season 1, Premiere (Disney+)
Reboot: Season 1, New Episode (Disney+)
The Ring (2005) (Paramount+)
Shetland: Season 7, new episode (BritBox)
Shutter Island (2010) (Paramount+)
Sleepy Hollow (1999) (Paramount+)
Stephen King's Graveyard Shift (1990) (Paramount+)
Stephen King's Silver Buller (1985) (Paramount+)
Stephen King's Thinner (1996) (Paramount+)
Sound of Metal (DVD/Blu-ray)
Suspect (BritBox)
Sweeney Todd: The Demon Barber of Fleet Street (2007) (Paramount+)
Thor: Love and Thunder (DVD/Blu-ray)
Virgins! (CBC Gem)
September 28
American Horror Stories: Season 2, New Episode (Disney+)
Andor: Season 1, New Episode (Disney+)
Blackish: Season 5 and Season 8 (Disney+)
Blonde (Netflix)
Cesar Millan: Better Human Better Dog: Season 1 (Disney+)
The D'Amelio Show: Season 2, Premiere (Disney+)
Eat the Rich: The GameStop Saga (Netflix)
Fearless: The Inside Story of the AFLW: Season 1, New Episode (Disney+)
Inside the World's Toughest Prisons: Season 6 (Netflix)
May It Please the Court: Season 1, New Episode (Disney+)
The Mighty Ducks: Game Changers: Season 2 premiere (Disney+)
Motherland: Fort Salem: Season 3, New Episode (Disney+)
Nick Kroll: Little Big Boy (Netflix)
Reservation Dogs: Season 2, New Episode (Disney+)
Running Wild with Bear Grylis: The Challenge: Season 1 (Disney+)
Tell Me Lies: Season 1, New Episode (Disney+)
Too Hot to Handle: Brazil: Season 2 (Netflix)
September 29
Dreams in Vantablack (CBC Gem)
The Empress (Netflix)
The Fifth Estate: New season premiere (CBC Gem)
Power Rangers Dino Fury: Season 2 (Netflix)
September 30
Anikulapo (Netflix)
Bad Sisters: New episode (Apple TV+)
Beirut (Netflix)
Below Deck Mediterranean: Season 1-2 (Prime Video)
Below Deck Sailing Yacht (Prime Video)
The Capture: Season 2 (Prime Video)
Carmen (VOD/Digital)
Entergalactic (Netflix)
Floor is Lava: Season 3 (Netflix)
The Greatest Beer Run Ever (Apple TV+)
Hocus Pocus 2 (Disney+)
Hocus Pocus 25th Anniversary Halloween Bash (Disney+)
Human Playground (Netflix)
Kamp Koral: Season 2 (Paramount+)
My Best Friend's Exorcism (Prime Video)
Overcoming Depression: Mind Over Marathon (CBC Gem)
The Passionate Eye - The Pretendians (CBC Gem)
Phantom Pups (Netflix)
The Lord of the Rings: The Rings of Power: New episode (Prime Video)
Rainbow (Netflix)
The Rest of Us (CBC Gem)
Saving Giraffes: The Long Journey Home (Disney+)
Shahs of Sunset: Season 1-2 (Prime Video)
She-Hulk: Attorney At Law: S1, New Episode (Disney+)
What We Leave Behind (Netflix)
The Wild Man (Digital)
Wolfboy and the Everything Factory: Season 2 Premiere (Apple TV+)
October 1
Barbie: It Takes Two: Season 2 (Netflix)
Buddy Games (Netflix)
The Falconer (CBC Gem)
Home Again (Netflix)
Hostel (Netflix)
In Full Voice (CBC Gem)
In My Skin: Season 2 (CBC Gem)
Johnny English Reborn (Netflix)
Jurassic Park III (Netflix)
Jurassic World (Netflix)
The Lost World: Jurassic Park (Netflix)
Mr. Malcolm's List (Paramount+)
Mysteries of Mental Illness (CBC Gem)
Premium Rush (Netflix)
The Reader (Netflix)
Robin of Sherwood (BritBox)
Saw (Netflix)
Saw II (Netflix)
Saw IV (Netflix)
Saw V (Netflix)
Saw: The Final Chapter (Netflix)
Sing (Netflix)
Spell (Netflix)
Split (Netflix)
Spontaneous (Netflix)
Two Witches (Arrow)
Vicky Cristina Barcelona (Netflix)
We Are Black and British (CBC Gem)
October 2
A Quiet Place (Prime Video)
The Conjuring (Netflix)
Forever Queens (Netflix)
Heartland: Season 16 premiere (CBC Gem)
Seven (Netflix)
The Shawshank Redemption (Netflix)
Veronica Mars (Prime Video)
The Witches (1990) (Netflix)