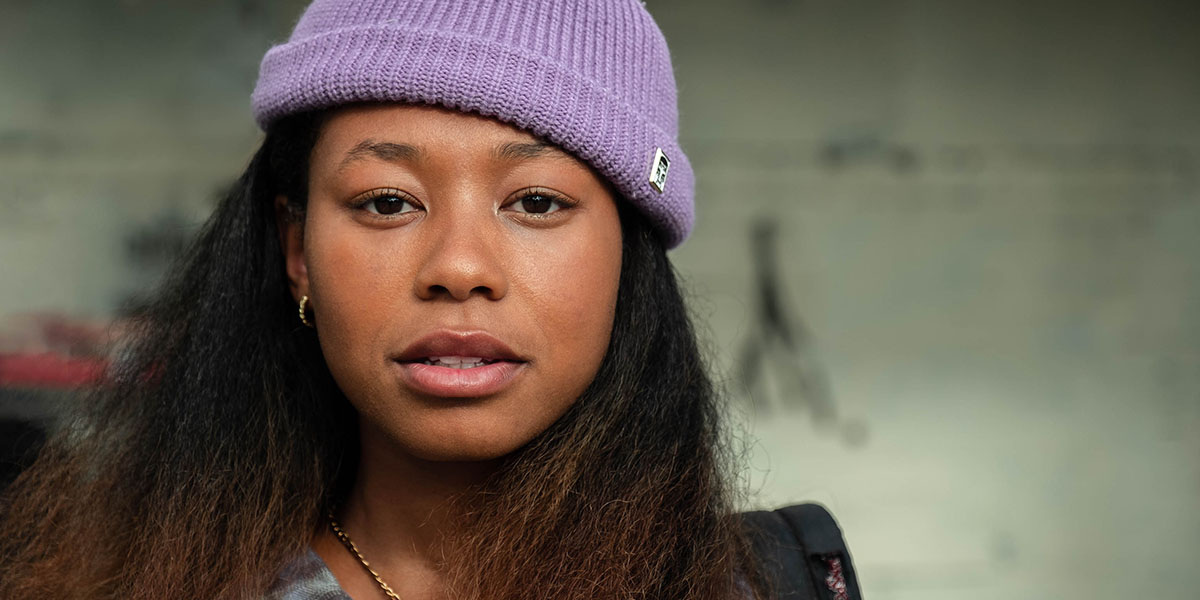 Check out all the new streaming content on Netflix, Prime Video, Disney+, Apple TV+, BritBox, CBC Gem, Paramount+ and more, including Tyler Perry's A Jazzman's Blues, as well as new DVD and Blu-ray releases such as The Black Phone. See the full list of new titles and watch the trailers below. ~Alexandra Heilbron
On the Come Up - Bri (Jamila Grey), a 16-year-old rapper, attempts to take the battle rap scene by storm. But when her first hit song goes viral for all the wrong reasons, she finds herself torn between the authenticity that got her this far and the false persona that the industry wants to impose upon her. Debuts September 23 on Paramount+.
A Jazzman's Blues - In 1947 Georgia, Bayou (Joshua Boone) and Leanne (Solea Pfieffer) fall in love, but Leanne's relatives forbid the relationship. When they meet again years later, Bayou has become a song-and-dance sensation and Leanne has married another man — and is passing as white. In 1987, a stack of letters is delivered to a state attorney general, possible evidence in the long-unsolved murder case of Bayou. Debuts September 23 on Netflix.
The Black Phone - In a suburban Colorado town in the 1970s, five children go missing, kidnapped by a sadistic killer known as "The Grabber." Finney Shaw, 13, is walking home from school when he runs into a "part-time magician" (Ethan Hawke) who says he needs a helping hand. After letting his guard down, Finney later finds himself in a soundproof basement, and quickly learns that the man he met was not a magician, but The Grabber himself. Available September 20 on DVD and Blu-ray.
September 19
Dancing with the Stars: Season 31, Live Premiere (Disney+)
Go Dog Go: Season 3 (Netflix)
Polaris Music Prize Gala (CBC Gem)
September 20
223 (Digital)
Baby Sharks's Big Show! The Seaweed Sway (DVD)
The Black Phone (DVD/Blu-ray)
The Equalizer: Season Two (DVD)
The Lost Boys (Ultra HD Blu-ray Combo Pack and Digital)
Lost Illusions (DVD/Blu-ray)
Nope (Digital)
Nothing Compares (VOD)
Outlander: Season 6 Collector's Edition (Blu-ray set/Blu-ray & DVD)
The Patient: Season 1, New Episode (Disney+)
Patton Oswalt: We All Scream (Netflix)
Poltergeist (Ultra HD Blu-ray Combo Pack and Digital)
Reboot: Season 1, Premiere (Disney+)
The Reef: Stalked (DVD/Blu-ray)
Theodore Roosevelt (DVD)
Tooth Fairy: Queen of Pain (DVD)
True Things (VOD/Digital)
Vengeance (DVD/Blu-ray)
Wrong Place (DVD/Blu-ray)
September 21
American Horror Stories: Season 2, New Episode (Disney+)
Andor: Season 1, 3-Episode Premiere (Disney+)
The Blacklist: Season 9 (Netflix)
Chibi Tiny Tales: Season 1-2 (Disney+)
Criminal Minds: Season 13 (Disney+)
Designing Miami (Netflix)
El Repatriado: Season 1 (Disney+)
Fearless: The Inside Story of the AFLW: Season 1, New Episode (Disney+)
For Love (Netflix)
Fortune Seller: A TV Scam (Netflix)
Iron Chef Mexico (Netflix)
May It Please the Court: Season 1, Premiere (Disney+)
Motherland: Fort Salem: Season 3, New Episode (Disney+)
The Perfumier (Netflix)
The Real Bling Ring: Hollywood Heist (Netflix)
Reservation Dogs: Season 2, New Episode (Disney+)
Rookie Cops: Season 1 (Disney+)
Super/Natural: Season 1 (Disney+)
Tell Me Lies: Season 1, New Episode (Disney+)
September 22
The Dreamlife of Georgie Stone (Netflix)
The Kardashians: Season 2, Premiere (Disney+)
Karma's World: Season 4 (Netflix)
She-Hulk: Attorney At Law: Season 1, New Episode (Disney+)
Snabba Cash: Season 2 (Netflix)
Thai Cave Rescue (Netflix)
September 23
A Jazzman's Blues (Netflix)
ATHENA (Netflix)
Blank (VOD/Digital)
Boys Vs Girls (CBC Gem)
Carmen (VOD)
Dog (Prime Video)
The Girls at the Back (Netflix)
The Infernal Machine (Digital)
Jamtara – Sabka Number Ayega: Season 2 (Netflix)
Lou (Netflix)
Million Dollar Listing Los Angeles: Season 1-2 (Prime Video)
Million Dollar Listing NY: Season 1-2 (Prime Video)
Murder, Mystery and My Family: Season 5 (BritBox)
Murder, Mystery and My Family, Case Closed: Season 3-4 (BritBox)
On the Come Up (Paramount+)
Pokémon: The Arceus Chronicles (Netflix)
Rhod Gilbert: Stand Up to Shyness (CBC Gem)
Sidney (Apple TV+)
Top Chef: Season 1-2 (Prime Video)
September 24
Dynasty: Season 5 (Netflix)
Fullmetal Alchemist The Final Alchemy (Netflix)
September 25
The Legacy Awards (CBC Gem)
The Witches (Netflix)