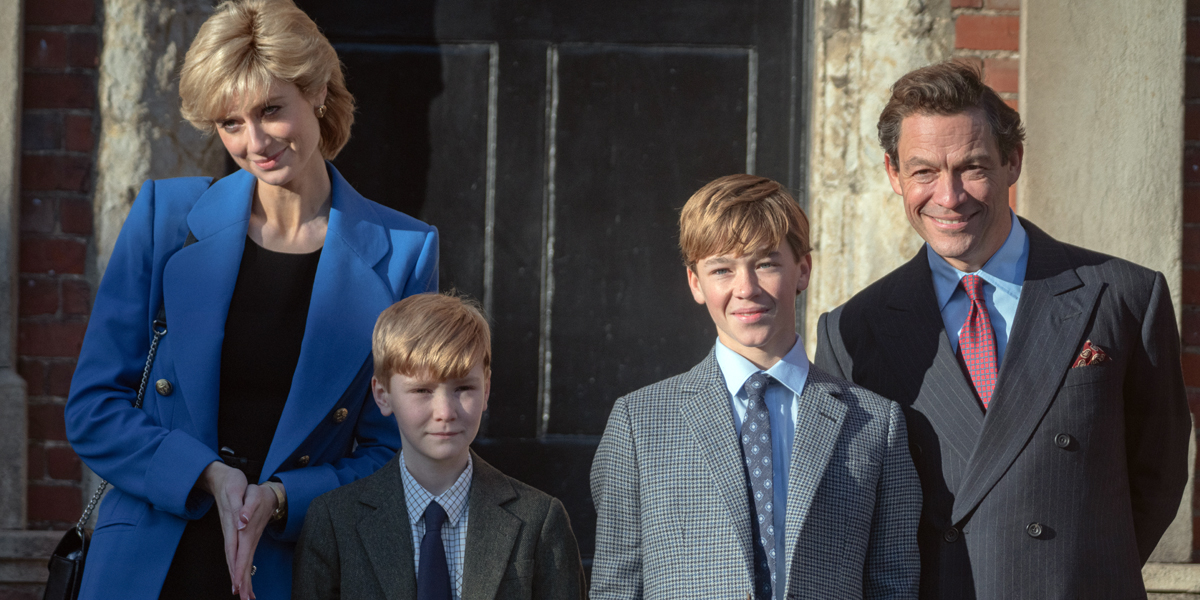 Check out what's new this week on Netflix, Prime Video, Disney+, Apple TV+, BritBox, Paramount+, CBC Gem and more, including Season 5 of The Crown starring Imelda Staunton and new DVD and Blu-ray releases such as Oscar and Golden Globe-winning movie The Power of the Dog. See the full list of new titles below and watch the trailers. ~Alexandra Heilbron
The Crown: Season 5 – Diana (Elizabeth Debicki) and Charles (Dominic West) wage a media war. The monarchy's role is up for debate. Welcome to the '90s — and Queen Elizabeth II's (Imelda Staunton) biggest challenge to date. Debuts November 9 on Netflix.
Warrior Nun: Season 2 – Alongside new allies, Ava (Alba Baptista) and the sisters of the Order band together and set out to take down a false prophet hell-bent on world domination. Debuts November 10 on Netflix.
Circuit Breakers – Each episode of this anthology series involves tech and how middle school students use it to their advantage, which sometimes becomes a disadvantage. Debuts November 11 on Apple TV+.
Down to Earth with Zac Efron: Season 2: Down Under – Zac Efron and Darin Olien take an eye-opening adventure across Australia, delving into its rich biodiversity and culture — and the efforts to protect both. Debuts November 11 on Netflix.
The Power of the Dog – Phil Burbank (Benedict Cumberbatch) is a rancher with a cruel streak. When his brother George (Jesse Plemons) marries widowed Rose (Kirsten Dunst) and takes in her teenage son Peter (Kodi Smit-McPhee), Phil uses sly methods to make their lives miserable. Available November 8 on DVD and Blu-ray.
November 7
American Dad: Season 18, new Episode (Disney+)
Bleach: Thousand Year Blood War: Season 1, new episode (Disney+)
The Curse (BritBox)
Dancing With The Stars: Season 31, new episode (Disney+)
Deepa & Anoop: Season 2 (Netflix)
Extraordinary Portraits (CBC Gem)
Murdoch Mysteries: Season 16, new episode (CBC Gem)
November 8
All That: Seasons 4 & 5 (Paramount+)
Allied (Paramount+)
Aqua Teen Forever: Plantasm (Digital/4K Ultra HD/Blu-ray)
Behind Every Star (Netflix)
Behind the Music, new episodes (Paramount+)
Casablanca (Ultra HD Blu-ray/Digital)
The Claus Family 2 (Netflix)
Defiance (Paramount+)
Devil's Workshop (DVD/Blu-ray)
Dig (Blu-ray + Digital/DVD)
Heartland of Darkness (Blu-ray)
I Love My Dad (DVD/Blu-ray)
Lost Illusions (DVD/Blu-ray)
Lost in the West: Part 1 (Paramount+)
Lost in the West: Part 2 (Paramount+)
Lost in the West: Part 3 (Paramount+)
Mamma Mia! (Paramount+)
Minions (Paramount+)
Minions & More Volume 2 (Netflix)
Neal Brennan: Blocks (Netflix)
Notting Hill (Paramount+)
The Power of the Dog (DVD/Blu-ray)
Reasonable Doubt: Season 1, new episode (Disney+)
Saturday Night Fever (4K Ultra HD + Digital)
She Will (DVD/Blu-ray)
Triviaverse (Netflix)
Vide Noir (Digital)
Yellowstone: The Dutton Legacy Collection: Seasons 1-4 & 1883 - Limited Edition Giftset (Blu-ray/DVD)
We Were Soldiers (Paramount+)
The Witch 2: The Other One (DVD/Blu-ray/Digital)
November 9
Black Rock Shooter Dawn Fall: Season 1, new episode (Disney+)
The Crown: Season 5 (Netflix)
FIFA Uncovered (Netflix)
Legacy: The True Story of the LA Lakers, new episode (Disney+)
Little Demon: Season 1, new episodes (Disney+)
Mickey Mouse Funhouse: Season 1 premiere (Disney+)
The Mighty Ducks: Game Changers: Season 2, new episode (Disney+)
The Noodle Group (CBC Gem)
Pink Lie: Season 1, new episode (Disney+)
Revenge of Others: Season 1: 2 episode premiere (Disney+)
Save Our Squad with David Beckham (Disney+)
Shadow Detective: Season 1, new episode (Disney+)
The Soccer Football Movie (Netflix)
The Stolen Cup (Robo Mundial): Season 1 (Disney+)
Sumo Do, Sumo Don't!: Season 1, new episode (Disney+)
Zootopia+: Season 1 premiere (Disney+)
November 10
Falling for Christmas (Netflix)
The Kardashians: Season 2, new episode (Disney+)
Lost Bullet 2 (Netflix)
Love Never Lies: Destination Sardinia (Netflix)
Savage x Fenty Show Vol. 4 (Prime Video)
State of Alabama vs. Brittany Smith (Netflix)
Warrior Nun: Season 2 (Netflix)
November 11
Ancient Apocalypse (Netflix)
Being Thunder (Digital/VOD)
Capturing the Killer Nurse (Netflix)
The Castle (Digital)
Circuit Breakers (Apple TV+)
Don't Leave (Netflix)
Down to Earth with Zac Efron: Season 2: Down Under (Netflix)
The English (Prime Video)
Fire of Love (Disney+)
Guest of Honour (CBC Gem)
Is That Black Enough for You?!? (Netflix)
Mammals (Prime Video)
Manifest West (VOD/Digital)
Monica, O My Darling (Netflix)
My Father's Dragon (Netflix)
My Grandparents' War: Season 2 (CBC Gem)
Mythic Quest: Season 3 Premiere (Apple TV+)
Sorry for Your Loss: Season 2 (CBC Gem)
Transformers: Earthspark (Paramount+)
November 13
Bob's Burgers: Season 13, new episode (Disney+)
Family Guy: Season 21, new episode (Disney+)
The Great North: Season 3, new episode (Disney+)
The Simpsons: Season 34, new episode (Disney+)