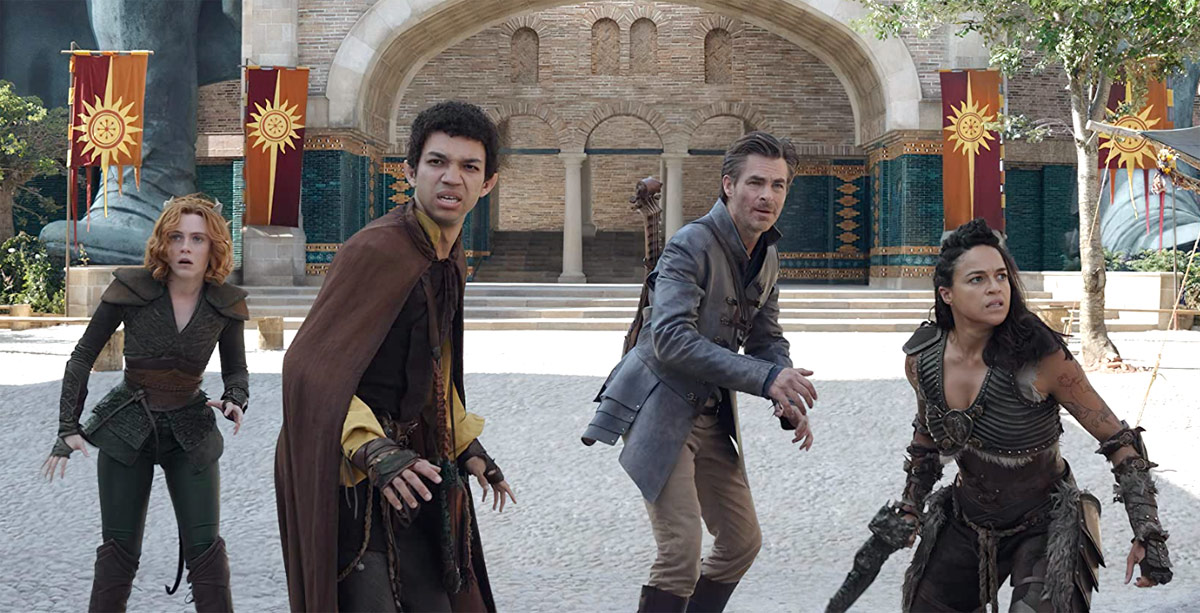 Find out what's new this week on Netflix, Disney+, Prime Video, Apple TV+, Paramount+, Crave, CBC Gem and more, including the action film Boss Level, as well as DVD/Blu-ray releases such as Dungeons & Dragons: Honor Among Thieves. View the full list of new titles below and watch the trailers. ~Alexandra Heilbron
Boss Level – Roy Pulver (Frank Grillo) finds himself reliving the day of his murder. Each day he awakes to a machete-wielding hitman coming for him. As he tries to figure out to escape the time loop, he comes up with a theory. His ex-wife Jemma (Naomi Watts) was killed by a gang of murderers, led by Colonel Clive Vector (Mel Gibson), as she was working on a time-travel machine. He believes Jemma may have put him in a time loop so he can replay the events each day, until he figures out how to put a stop to it and save not only himself, but Jemma and their son. Debuts June 4 on Netflix.
The Idol – After a nervous breakdown derailed Jocelyn's (Lily-Rose Depp) last tour, she's determined to claim her rightful status as the greatest and sexiest pop star in America. Her passions are reignited by Tedros, a nightclub impresario with a sordid past. Will her romantic awakening take her to glorious new heights or the deepest and darkest depths of her soul? Debuts June 4 on Crave.
Knock at the Cabin – A young girl and her two fathers (Jonathan Groff, Ben Aldridge) go on vacation to a remote cabin in a forest. A man (Dave Bautista) comes from the woods and is soon joined by three others (Rupert Grint, Nikki Amuka-Bird, Abby Quinn). He tells them they're there to prevent the apocalypse and to do that, they have to ask the family to make a terrible decision. Debuts June 3 on Prime Video.
Dungeons & Dragons: Honor Among Thieves – After his wife dies, Edgin (Chris Pine) takes to stealing to provide for his daughter Kira, along with his best friend Holga (Michelle Rodriguez). They start off with small crimes, but when they plan a huge heist with Forge (Hugh Grant), they're caught. Edgin asks Forge, who gets away, to take care of Kira. After they get out of prison, they discover that Forge has become a powerful man, and he has no intention of letting Kira go. With the help of two young wizards (Justice Smith, Sophia Lillis), Edgin and Holga come up with an elaborate plan to get Kira back. Available May 30 on DVD and Blu-ray.
Michelle Rodriguez reveals what it was like to team up with Chris Pine in Dungeons & Dragons: Honor Among Thieves. She also talks about riding horses in the film and the secret behind how heavy the weapons were that she had to swing around. Finally, Michelle describes the beautiful locations seen in the film.
May 29
digi-ART (CBC Gem)
Reality @9pm ET (Crave)
May 30
65 (DVD/Blu-ray)
American Dad: Season 19 - New Episode (Disney+)
Assassin (DVD)
The Body Remembers When The World Broke Open (Paramount+)
Cliffhanger (4K Ultra HD Limited Edition SteelBook)
Danger Force (Paramount+)
Dark Side of the Ring: Season 4 @10pm ET (Crave)
Dirty Grandpa (Paramount+)
Dungeons & Dragons: Honor Among Thieves (DVD/Blu-ray)
Eurotrip (Paramount+)
How I Met Your Father: Season 2 - New Episode (Disney+)
Maximum Overdrive (Blu-ray + Digital SteelBook)
Mojave Diamonds (DVD)
Please Baby Please (DVD)
Tomorrow I'll Be Someone's Girlfriend: Season 2 Premiere (Disney+)
Transformers: 6 Movie SteelBook Collection (4K Ultra HD + Blu-ray + Digital Copy)
The Walking Dead Complete Series (Digital)
May 31
Aktris: Season 1 (Disney+)
Class of '09: Season 1 - New Episode (Disney+)
The Cleaner: Season 2 (BritBox)
The Clearing: Season 1 - New Episode (Disney+)
Desecration (Prime Video)
Dr. Romantic: Season 3 - New Episode (Disney+)
George Michael - A Different Story (Paramount+)
George Michael - Freedom Uncut (Paramount+)
George Michael - Live in London (Paramount+)
High Desert - New Episode (Apple TV+)
Hustle (Prime Video)
In Bed with The Pedros (Prime Video)
Pandora: Beneath the Paradise: Season 1 - New Episodes (Disney+)
Platonic - New Episode (Apple TV+)
Race: Season 1 - New Episode (Disney+)
Rodeo (Prime Video)
Saint X - New Episode (Disney+)
Sista (Prime Video)
Tiger's Tail (Prime Video)
June 1
A Beautiful Life (Netflix)
Astérix & Obélix: The Middle Kingdom (Netflix)
Awkwafina is Nora From Queens: Season 3 (Crave)
Bad Behaviour: Season 1 - Episode 1 — Starz (Crave)
Bend It Like Beckham — Starz (Crave)
Cooties (Netflix)
The Curious Case of Dolphin Bay (Crave)
The Days (Netflix)
Deadloch (Prime Video)
Door Mouse (Crave)
Dumb and Dumberer: When Harry Met Lloyd (Netflix)
Enough (Netflix)
Fantastic Beasts and Where to Find Them (2016) (Crave)
Fantastic Beasts: The Crimes of Grindelwald (2018) (Crave)
Fear (Netflix)
First Knight (Netflix)
Girls5eva: Season 2 (Netflix)
Girls5eva: Season 2 (Netflix)
The Goldbergs: Season 10 (Crave)
Grease: Rise of The Pink Ladies: Season 1 Finale (Paramount+)
iCarly: Season 2 Premiere (Paramount+)
The Italian Job (Netflix)
Kokum, With Love (CBC Gem)
LEGO Ninjago: Dragons Rising (Netflix)
Mad Max: Fury Road — Starz (Crave)
Magic Mike's Last Dance (Crave)
Mean Girls (Netflix)
Mindcage — Starz (Crave)
Miss Congeniality (Netflix)
Mr. Peabody & Sherman (Netflix)
Muster Dogs (Netflix)
Nanny McPhee (Netflix)
Nanny McPhee and the Big Bang (Netflix)
Painting with John: Season 3 - Episode 1 (Crave)
Police Academy — Starz (Crave)
Police Academy 2: Their First Assignment — Starz (Crave)
Ride Along (Netflix)
The Rookie: Feds: Season 1
The Rookie: Season 5 (Crave)
Savages (Netflix)
Spirit of Nation: The Places We Belong (CBC Gem)
Starsky & Hutch (Netflix)
The Substitute (Netflix)
Vengeance (Crave)
Winnipeg's North End: A Food Desert (CBC Gem)
June 2
Bad Behaviour: Series Premiere - STARZ (Crave)
BPM (Beats Per Minute) (MUBI)
City on Fire - New Episode (Apple TV+)
Drop the Needle (Prime Video)
Escape to the Country: Season 29 (CBC Gem)
Esme My Love (Digital/VOD)
FBI True - New Episodes (Paramount+)
Joe Pickett: Season 2 Premiere (Paramount+)
Love Me: Season 2 (CBC Gem)
Manifest: Season 4 Part 2 (Netflix)
Medellin (Prime Video)
Missed Connections (Netflix)
Pour Toi Flora (Dear Flora) (CBC Gem)
Queen of the Universe: Season 2 Premiere (Paramount+)
Rich in Love 2 (Netflix)
Run Woman Run (CBC Gem)
Scoop (Netflix)
Seconds (Prime Video)
Shiny Happy People: Duggar Family Secrets (Prime Video)
Valeria: Season 3 (Netflix)
With Love: Season 2 (Prime Video)
June 3
The Campaign (Netflix)
Heavenly Delusion (Tengoku-Daimakyo): Season 1 - New Episode (Disney+)
Knock at the Cabin (Prime Video)
The Onion Movie (Prime Video)
June 4
Boss Level (Netflix)
The Great North - New Episode (Disney+)
The Idol: Season 1 - Episode 1, @9pm ET (Crave)
Three Identical Strangers (MUBI)
The Simpsons: Season 34 - New Episode (Disney+)