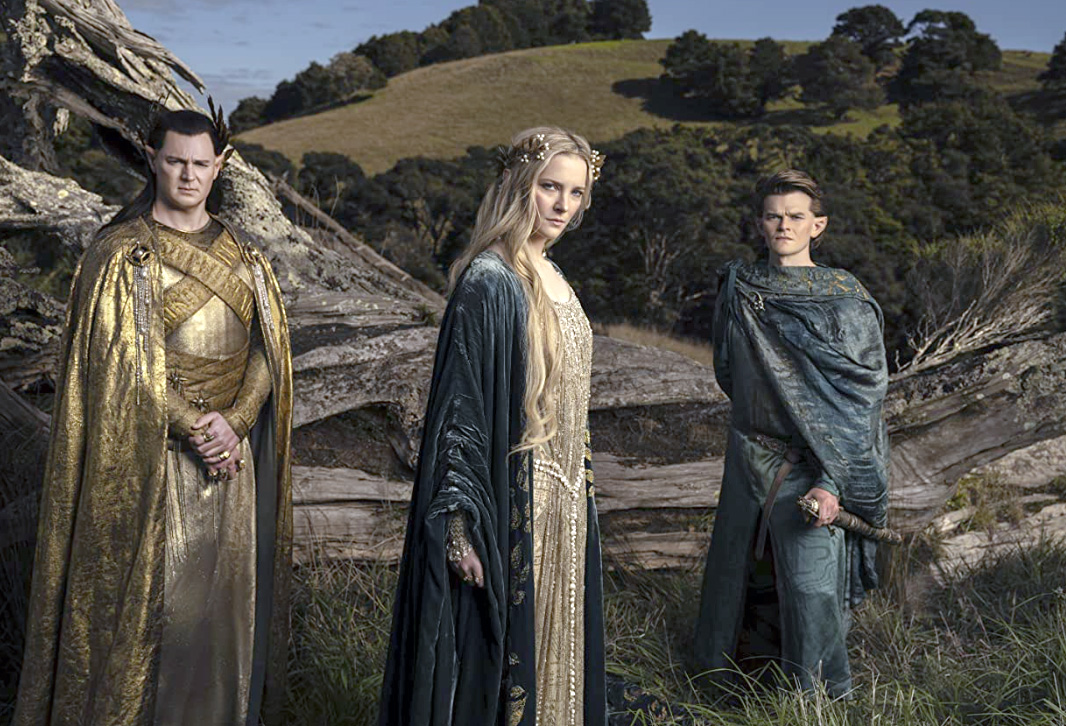 Check out all the new streaming content on Netflix, Prime Video, Disney+, Apple TV+, CBC Gem and more, including The Lord of the Rings: The Rings of Power, as well as new DVD and Blu-ray releases. See the full list of new titles and watch the trailers below. ~Alexandra Heilbron
The Lord of the Rings: The Rings of Power - Beginning in a time of relative peace, this original new series follows an ensemble cast of characters as they confront the long-feared reemergence of evil to Middle-earth. From the darkest depths of the Misty Mountains, to the majestic forests of the elf-capital of Lindon, to the breathtaking island kingdom of Númenor, to the farthest reaches of the map, these kingdoms and characters will carve out legacies that live on long after they are gone. Debuts September 2 on Prime Video.
Check out our interviews with The Lord of the Rings: The Rings of Power cast and showrunners:
I Came By – Graffiti artists Toby (George MacKay) and Jay (Percelle Ascott) regularly target the homes of the U.K.'s wealthy elite and ruling class to spray their illegal artistic creations inside. When Toby breaks into the home of renowned former High Court Judge Sir Hector Blake (Hugh Bonneville) he discovers a shocking secret that leads him on a journey endangering himself and those closest to him. Also starring Kelly Macdonald. Debuts August 31 on Netflix.
August 29
Under Her Control (Netflix)
Mighty Express: Season 7 (Netflix)
August 30
1883: A Yellowstone Origin Story (DVD/Blu-ray)
American Carnage (DVD/Blu-ray)
The Assistant (Paramount+)
Blue Bloods: The Twelfth Season (DVD)
Call of the Wild (Paramount+)
Cornel Wilde Triple Feature (Digital)
First We Eat (Paramount+)
Glenn Ford Triple Feature (Digital)
Heart Beats Loud (Paramount+)
I Am a Killer: Season 3 (Netflix)
Killing Escobar (Paramount+)
Lean Into Love (Paramount+)
Minions: The Rise of Gru (Digital)
Paws of Fury: The Legend of Hank (Paramount+)
The Phantom of the Open (DVD/Blu-ray)
Rosalind Russell Triple Feature (Digital)
Thelma & Louise (Paramount+)
Timecrafters: The Treasure of Pirate's Cove (Paramount+)
Untold: Operation Flagrant Foul (Netflix)
Warrior (4K Ultra HD + Blu-ray + Digital SteelBook)
Where's Rose (DVD/Digital)
August 31
American Horror Stories: Season 2, Premiere (Disney+)
The Bear: Season 1, New Episode (Disney+)
Club América vs Club América (Netflix)
Diana: The Ultimate Truth (CBC Gem)
Family Secrets (Netflix)
Fearless: The Inside Story of the AFLW: Season 1, New Episode (Disney+)
High School Musical: The Musical: The Series: Season 3, New Episode (Disney+)
I Came By (Netflix)
Maggie: Season 1, New Episodes (Disney+)
Motherland: Fort Salem Season 3, New Episodes (Disney+)
She-Hulk: Attorney At Law: Season 1, New Episode (Disney+)
Solar Opposites: Season 3, New Episode (Disney+)
When Nature Calls with Helen Mirren: Season 1 (Disney+)
September 1
Barbie Mermaid Power (Netflix)
DC's Stargirl Season 3 (Prime Video)
Das Boot: Season 3 (CBC Gem)
Escape from Alcatraz (Netflix)
Fakes (CBC Gem)
Fenced In (Netflix)
The Girl Next Door (Netflix)
The Girl On The Train (Prime Video)
Hachi: A Dog's Tale (Netflix)
The Interpreter (Netflix)
Islands (CBC Gem)
The Jackal (Netflix)
LOL House of Surprises: Season 1 (Netflix)
Love in the Villa (Netflix)
Malory Towers: Season 2 (CBC Gem)
Mike, New Episodes (Disney+)
Nacho Libre (Netflix)
Off the Hook (Netflix)
Planes, Trains and Automobiles (Netflix)
Primal Fear (Netflix)
Samurai Rabbit: The Usagi Chronicles: Season 2 (Netflix)
She-Hulk: Attorney At Law: Season 1, New Episode (Disney+)
S.W.A.T.: Season 5 (Netflix)
Tyler Perry's Madea's Witness Protection (Netflix)
Waterworld (Netflix)
Welcome Home Roscoe Jenkins (Netflix)
Young Sheldon: Season 5 (Netflix)
September 2
Al David VS. The NFL (Disney+)
Believeland (Disney+)
The Band That Wouldn't Die (Disney+)
Burial (Digital)
Dated and Related (Netflix)
Devil in Ohio (Netflix)
Dickie V (Disney+)
Doc McStuffins: The Doc is 10! (Disney+)
Elway to Marino (Disney+)
The Festival of Troubadours (Netflix)
Four Falls of Buffalo (Disney+)
The Horror Crowd (Digital/VOD)
Ivy + Bean (Netflix)
Ivy + Bean: The Ghost That Had to Go (Netflix)
Ivy + Bean: Doomed to Dance (Netflix)
Life By Ella (Apple TV+)
The Lord of The Rings: The Rings of Power (Prime Video)
Mister Limbo (Digital)
The Next Step: Season 1 (CBC Gem)
Pokémon Master Journeys: The Series: Season 1 (Netflix)
Run Ricky Run (Disney+)
Small Potatoes: Who Killed the USFL? (Disney+)
Surrogate (Digital)
The Two Bills (Disney+)
Year of Scab (Disney+)
You're Nothing Special (Netflix)
September 3
Little Women (Netflix)
September 4
The Broken Hearts Gallery (Netflix)
Coraline (Netflix)
The Dressmaker (Netflix)
Marley (Netflix)
Seeking a Friend for the End of the World (Netflix)
The SpongeBob Movie: Sponge on the Run (Netflix)