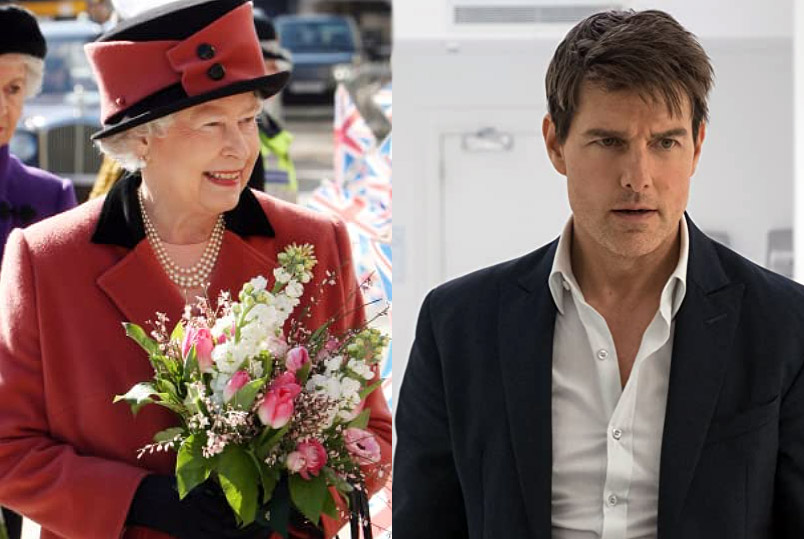 Just weeks before her death on September 8, 2022, Queen Elizabeth and Tom Cruise hit it off, striking up an unlikely friendship. Here's how it happened.
Cruise made an appearance at the Queen's Platinum Jubilee Celebrations at the Windsor Horse Show this past May, but unfortunately the Queen was unable to meet the Top Gun: Maverick star due to mobility issues. A source told The Sunday Times of London, "The Queen let it be known that she was really disappointed not to have met Tom at the pageant, so he was invited to have a special tour of Windsor Castle with everything laid on for him. Afterwards, just the two of them had tea together."
After touring Windsor Castle, Cruise was even given the opportunity to fire a ceremonial gun. The source added, "She loved seeing him and they really hit it off, so much so that she invited him back for lunch. He was even allowed to fly in by helicopter."
Unfortunately, the Queen's health began to decline shortly afterwards. When asked about the Queen during a television interview earlier this year, Cruise said, "She's just a woman that I greatly admire. I think she is someone who has tremendous dignity and I admire her devotion. What she has accomplished has been historic."
Cruise can next be seen on the big screen in Mission: Impossible - Dead Reckoning Part I, opening in theaters July 14, 2023. ~Alexandra Heilbron