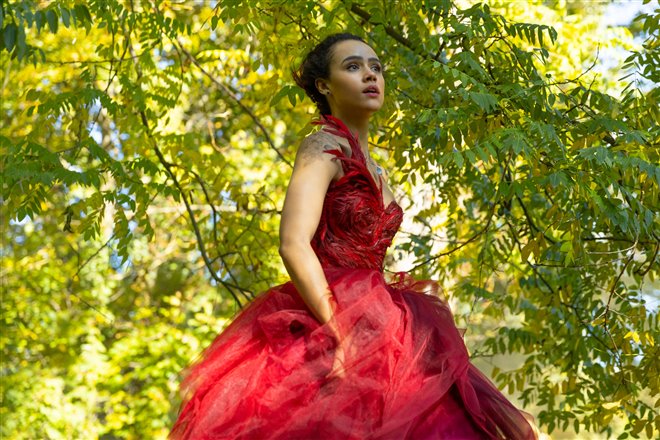 There are several great new releases this weekend, including a concert and a re-release that may get fans excited about what to watch. Also, this coming Wednesday, Prime Video offers an early peek at the first two episodes of their epic new series, The Lord of the Rings: The Rings of Power, which is even more spectacular on the big screen. Check them all out below and watch the trailers to help you decide what you want to see in theaters. ~Alexandra Heilbron
The Invitation - After the death of her mother and having no other known relatives, Evie (Nathalie Emmanuel) takes a DNA test... and discovers a long-lost cousin she never knew she had. Invited by her newfound family to a lavish wedding in the English countryside, she's soon thrust into a nightmare as she uncovers twisted secrets in her family's history. Click here for showtimes.
After Ever Happy - Hardin (Hero Fiennes Griffin) and Tessa (Josephine Langford) are growing up and they may never be the same. Although they have defied all the odds, their next chapter will bring either a fairy tale ending or finally destroy their passionate yet toxic relationship. When a revelation about the past shakes Hardin's impenetrable façade to the core—and Tessa suffers a tragedy—will they stick together or be torn apart? Click here for showtimes.
Three Thousand Years of Longing - During a trip to Istanbul, Alithea (Tilda Swinton), a brilliant but lonely scholar, discovers Djinn (Idris Elba), a magical being trapped in a small memento. Djinn offers to grant Alithea three wishes in exchange for his freedom. What she really wants is love and companionship, but will she get that through a wish? Click here for showtimes.
André Rieu's 2022 Maastricht Concert: Happy Days are Here Again! - The wait is over! After two long years, maestro André Rieu is performing from his hometown of Maastricht once again. The concert will be a captivating summer event on the iconic Vrijthof square, featuring popular feel-good classics, show-tunes, and of course, joyous waltzes. Together with the wonderful Johann Strauss Orchestra and very special guests, André is bringing an uplifting and romantic party to your local cinemas. Click here for showtimes. Playing Aug. 27 & 28 only in select cities.
Only Yesterday – Taeko (Daisy Ridley) is 27, unmarried, and has lived her whole life in Tokyo. She decides to visit her relatives in the countryside, and as the train travels through the night, memories flood back of her younger years: the first immature stirrings of romance, the onset of puberty, and the frustrations of math and boys. In lyrical switches between the present and the past, Taeko wonders if she has been true to the dreams of her childhood self. Click here for showtimes. Playing in select cities as part of Studio Ghibli Fest 2022.
Funny Pages - When teenage cartoonist Robert (Daniel Zolghadri) is told he's already drawing at a professional level, he decides to drop out of school and leave his parents' home to start his career. He shares a basement apartment with two adult men and finds a minimum wage job to support himself. A bitingly funny coming-of-age story of a teenage cartoonist who rejects the comforts of his suburban life in a misguided quest for soul. Click here for showtimes. Playing in select cities.
Rogue One: A Star Wars Story – The IMAX Experience - Experience Rogue One: A Star Wars Story in select IMAX theatres. Plus, get an exclusive look at the new Disney+ Star Wars series Andor! In a time of conflict, a group of unlikely heroes band together on a mission to steal the plans to the Death Star, the Empire's ultimate weapon of destruction. This key event in the Star Wars timeline brings together ordinary people who choose to do extraordinary things, and in doing so, become part of something greater than themselves. Click here for showtimes. Playing in select cities.
The Good Boss - Awaiting a visit by a committee that could give his company an award for excellence, Julio Blanco (Javier Bardem), the owner of an industrial scales manufacturing business tries to resolve any problems from his workers, including an employee who was laid off not long ago and turns up with his two kids, demanding that someone explain to his son and daughter why he no longer has a job. Click here for showtimes. Playing in select cities.
The Lord of the Rings: The Rings of Power - This epic drama series is set thousands of years before the events of J.R.R. Tolkien's The Hobbit and The Lord of the Rings, taking viewers back to an era in which great powers were forged, kingdoms rose to glory and fell to ruin, unlikely heroes were tested, hope hung by the finest of threads, and one of the greatest villains that ever flowed from Tolkien's pen threatened to cover all the world in darkness. The two first episodes are being shown in select theaters on one night only -- Wednesday, Aug. 31 at 7 p.m. -- before the series debuts on Prime Video Friday, Sept. 2. It's definitely worth checking out on a big screen. Theaters: Landmark Whitby, Landmark Guildford, Landmark Kanata and Landmark Country Hills.
Check out our interviews with The Lord of the Rings: The Rings of Power cast and showrunners: