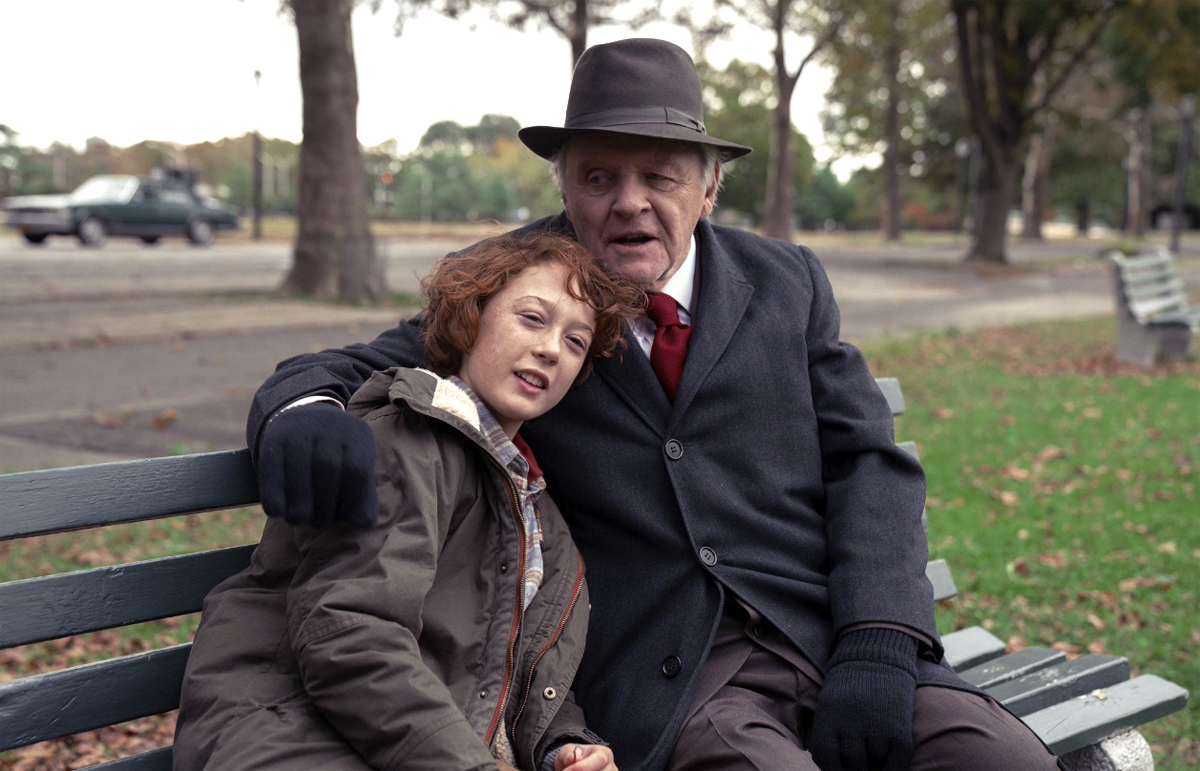 Check out the new movies opening in theaters this weekend -- read about them below and watch the trailers to decide what you want to see. ~Alexandra Heilbron
Armageddon Time - In the 1980s, sixth grader Paul (Michael Banks Repeta) lives with his dad (Jeremy Strong), mother (Anne Hathaway) and brother in Queens, New York. He also spends a lot of time with his supportive grandfather (Anthony Hopkins). Paul's best friend is Johnny (Jaylin Webb), the only Black student in his class. When the two boys get into trouble together during a field trip, Paul's parents decide Johnny is a bad influence and enroll Paul in a posh private school. Click here for showtimes.
One Piece Film: Red - Uta, the most beloved singer in the world whose voice has been described as "otherworldly," conceals her identity when performing. Now, for the first time ever, she will reveal herself to the world at a live concert. With the Navy watching closely, the venue fills with Uta's fans -- all eagerly awaiting the voice that the whole world has been waiting for to resound. Click here for showtimes.
The Wonder - English nurse Lib Wright (Florence Pugh) is brought to a tiny village to observe, but not to administer to 11-year old Anna O'Donnell (Kíla Lord Cassidy), who claims not to have eaten for four months. A committee is set up to prove or disprove the claim and establish whether or not it is a religious miracle. When Lib becomes concerned by what is happening, she can no longer keep a silent watch and tries to intervene. Click here for showtimes.
Vandits - A group of aspiring thieves who call themselves "The Vandits" are headed out to pull off their first heist ever — at the bingo hall, where Ned (Enrico Colantoni) and Ramone (Robb Wells) work. With a 25K jackpot on the line, this Christmas eve heist should go off without a hitch... or so they think. With a twist at every corner, it seems as though The Vandits are living out their very own Groundhog Day scenario. Click here for showtimes.
Robb Wells (Trailer Park Boys) talks about how much fun he had working with Enrico Colantoni and Jann Arden in the Canadian Christmas comedy Vandits, which has a Groundhog Day theme. Francesco Antonio, who plays small time criminal Veeny, describes his character and shows the souvenir he picked up on the set in Winnipeg.
The Return of Tanya Tucker - Trailblazing country music legend Tanya Tucker began as a child star and went on to defy the standards of how a woman in country music was expected to behave. Decades after Tanya slipped from the spotlight, rising Americana music star Brandi Carlile takes it upon herself to write an entire album for her hero, based on Tanya's extraordinary life, spurring the greatest comeback in country music history. Click here for showtimes.
The Swearing Jar - When Carey (Adelaide Clemens) and Simon (Patrick J. Adams) learn they're going to have a baby, Carey decides they need to stop cursing before the baby arrives, so she comes up with the idea of a Swearing Jar. Just before Patrick's upcoming 40th birthday party, Carey meets Owen (Douglas Smith), a struggling songwriter/guitarist, and gets his help to write a song. But when Owen develops feelings for her, it creates a complication. Click here for showtimes.