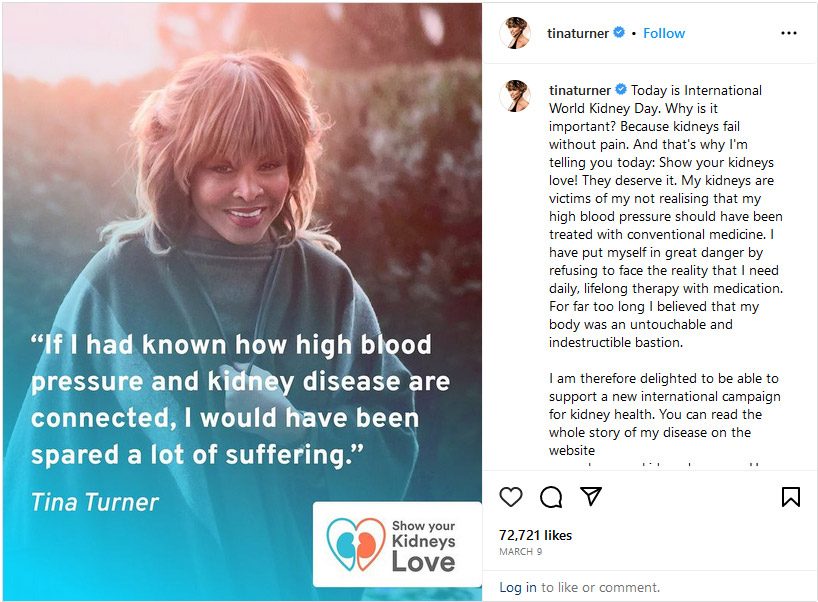 Legendary singer Tina Turner passed away yesterday -- May 24, 2023 -- at the age of 83 at her mansion just outside Zurich, Switzerland. A representative released a statement today that revealed Tina died of "natural causes." However,  she struggled for years with high blood pressure and kidney disease, as seen above in an Instagram post.
In 2005, she learned that her kidneys had lost 35 percent of their function, and received a kidney transplant in 2017. She admitted later that she "developed a fatal dislike" of the pills she was prescribed to combat kidney failure, and without telling doctors, stopped taking them, switching instead to homeopathic remedies.
On March 9, 2023, in honor of World Kidney Day, she wrote in the Instagram post seen above: "My kidneys are victims of my not realising that my high blood pressure should have been treated with conventional medicine. I have put myself in great danger by refusing to face the reality that I need daily, lifelong therapy with medication. For far too long I believed that my body was an untouchable and indestructible bastion."
Over the course of her career, Tina sold more than 100 million records worldwide; earned 12 Grammy awards; received a Kennedy Center Honor; a star on the Hollywood Walk of Fame; and entry into the Rock 'n' Roll Hall of Fame as a solo artist in 2021.
Her career took off in the 1960s, after she met and married Ike Turner. Together, they formed the Ike & Tina Turner Revue, releasing hits such as "River Deep — Mountain High" and "Proud Mary." Tina left Ike in 1976, claiming physical abuse, and later enjoyed a solo comeback with the single "What's Love Got to Do With It."
A statement released yesterday read: "Tina Turner, the 'Queen of Rock'n Roll' has died peacefully today at the age of 83 after a long illness in her home in Küsnacht near Zurich, Switzerland. With her, the world loses a music legend and a role model. There will be a private funeral ceremony attended by close friends and family. Please respect the privacy of her family at this difficult time." ~Alexandra Heilbron