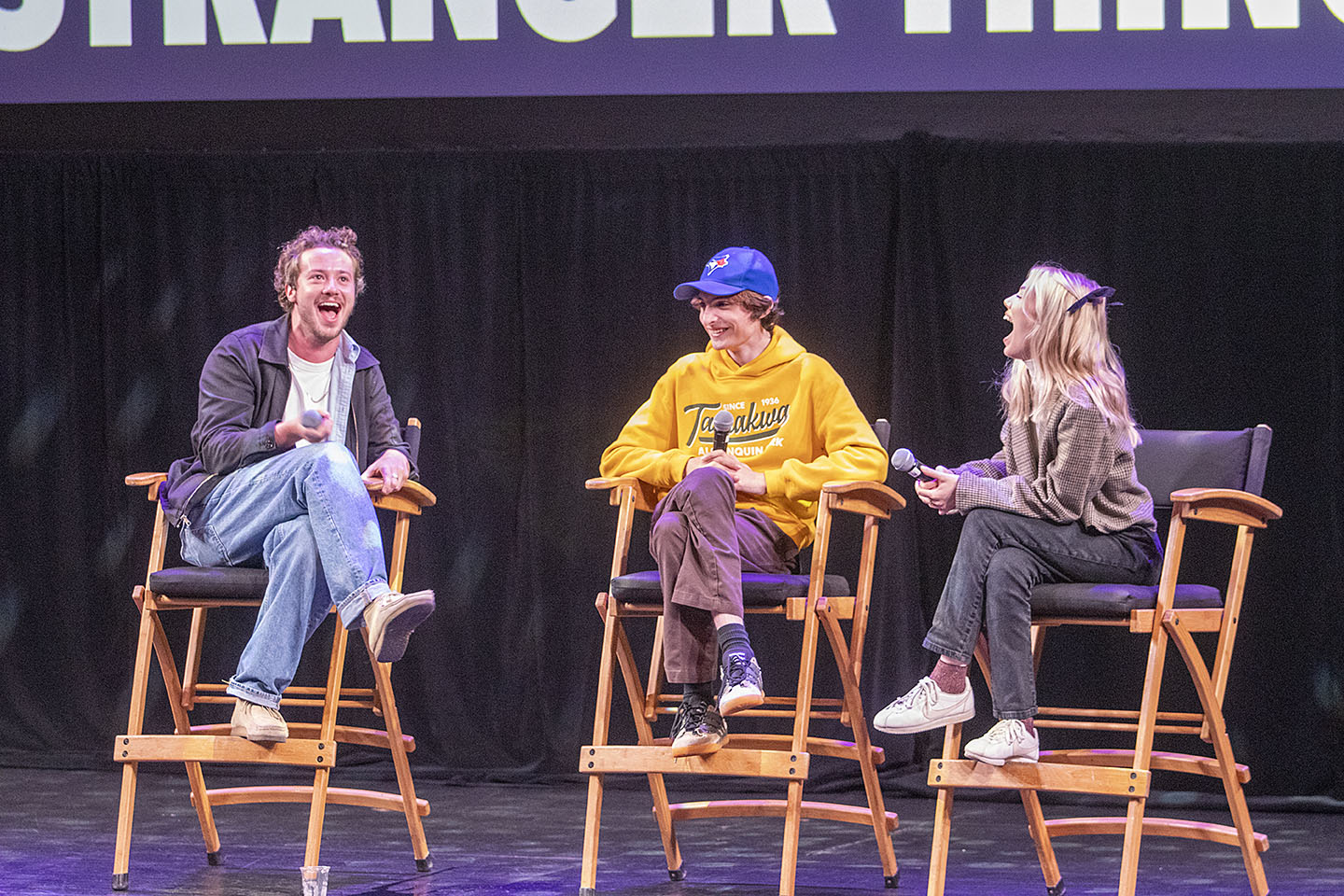 Thousands of fans of comic books, anime, film, television, and cosplayers arrived in Toronto for the annual Fan Expo Canada convention -- for the first time without COVID-19 restrictions. Over 140,000 people attended the four-day convention.
New this year were the Buffer Festival, the world's largest digital-first film festival; Tattoo Alley, which featured Marc Draven, the only tattoo artist who is both licensed by Lucasfilm Ltd. and endorsed by the late Stan Lee; and Author Alley, which brought some homegrown literary heroes to the floor.  They also included a Horror Stage and Podcast Theatre where fans could sit in on live recordings of their favorite podcasts such as The Friendship Onion with Billy Boyd and Dominic Monaghan and Jay and Silent Bob Get Hold with Jason Mewes and Kevin Smith.
Special events included The Kids in the Hall promoting their new Prime Video show, Jay and Silent Bob Do Toronto and finally, the final stop in the Four Hobbit Reunion tour with Elijah Wood, Sean Astin, Billy Boyd and Dominic Monaghan.
While all the Hobbits did their own panels separately throughout the weekend, the event when they appeared together on stage was one of the biggest draws to the convention. They fondly remembered their time filming The Lord of the Rings trilogy and spoke about their time there. It was mentioned that Sean Bean caught Wood and Astin playing GoldenEye 007 on the Nintendo64 with Bean's likeness as the villainous Trevelyn getting killed over and over again by Wood.
Boyd, Orlando Bloom and Monaghan played a prank on Bean -- when they were taking a helicopter ride up to a mountain, knowing Bean was afraid of helicopters, they egged their pilot to bank up and down and make hard turns while Bean was hanging on for dear life.  After that experience, he chose to walk up and down the mountain to the set.  Monaghan said Bean never forgave them for that prank, noting that he worked on a film with Bean in which he had a broken foot in a cast and Sean Bean kept pushing him over, muttering about the helicopter ride.
The Hobbits all had their own pipes in the movie to smoke pipeweed and Boyd said that they chose their own pipes: "It was like getting to choose your lightsaber or something, Hobbit-style."  They ended the event with a dance party (see photo below), as this was the final stop of their North American tour.
After not being allowed to board an Air Canada flight to Toronto due to the plane being overbooked despite having a ticket, Matthew Lewis, who played Neville Longbottom in the Harry Potter films, finally arrived to the delight of the Potter fans.  He spoke of how he loved playing Neville and revealed that he drew from his own life to play the character.  His biggest regret was being shy as a child and not speaking with the senior actors at the time, such as Alan Rickman and Maggie Smith.
When asked if he took anything from the set as a souvenir, he admitted he took a chunk from the maze and the ears they used when his character got yanked by the ears. The wardrobe people asked him he wanted his suit and he said "Of course," to which they jokingly said to stuff it in his bag without anyone seeing and he could take it. When he was later cast on the TV series, All Creatures Great and Small, he said he didn't think that anyone would want to watch a show about a Yorkshire vet, so was pleased when it was a success. He read the books and thought it had beautiful storytelling.
Perhaps the biggest draw to the convention was the cast of Stranger Things, particularly Joseph Quinn, who plays Eddie Munson. Originally scheduled to appear only two days, he decided to extend his appearance to all four days, with his autograph and photo ops lines being the longest. The additional days were completely sold out as soon as more were announced.
The theater they held the Stranger Things panel in was filled to the max 90 minutes before the actual panel began. It was one of the last panels of the weekend and a perfect way to end the weekend, with Joseph Quinn taking the stage with his co-stars Finn Wolfhard (Mike Wheeler) and Grace Van Dien (Chrissy Cunningham).
This was the biggest Fan Expo in years and the fans appreciated all the celebrities who were in attendance and the artists and authors who brought their latest works, as well as all the cosplayers who went to great detail to recreate their favorite characters' costumes.
Finally, it was time to call it a night on the third largest fan convention in North America, with great memories and tons of photos to remember it by. I'm already looking forward to what Fan Expo 2023 will produce! ~Article and photos by Joanne Chu-Fook
Click here to see more photos in our Fan Expo 2022 photo gallery.